HOW TO BID
Click here for info on all of our various bidding methods.
AUCTION INFO
Next Auctions:
•May 4, 2013. Three-Session Sale: Textiles, The Maryland Sale, Americana
(More Info)
•July 20, 2013. Stoneware & Redware Pottery.
(More Info)
Location: Our historic gallery.

15900 York Rd, Sparks, MD 21152. (Directions.)
NOW ACCEPTING CONSIGNMENTS
Click here for a FREE pre-auction evaluation of your pieces!
Click here for more consignment info.
Baltimore Stoneware Jar w/ Slip-Trailed Floral Decoration
November 05, 2005 Stoneware Auction
Lot #: 83
||
(Facebook)
||
||
Price Realized: $4,950.00 (Price includes 10% buyer's premium).

AUCTION HIGHLIGHT!
(
Nov. 5, 2005 Highlights
|
Baltimore Stoneware
)
Outstanding Two Gallon Stoneware Jar with Elaborate Flowering Urn Decoration, Baltimore, MD, origin, circa 1825, ovoid jar with flaring collar, tooled shoulder, and open loop handles, decorated front and back with a large slip-trailed cobalt plant extending from an open-handled urn. Urn decorated with several dots. Ends of plant stems on the left and right decorated with numerous dots resembling grapes. Collar decorated with a dramatic zig-zagging line of cobalt. Handle terminals brushed with cobalt. One of the most ornately-decorated Baltimore stoneware jars known. 4" and 4 1/4" L-shaped sections reglued at base. 1 3/4" x 3/4" missing wedge on underside. Height 11 3/4".
---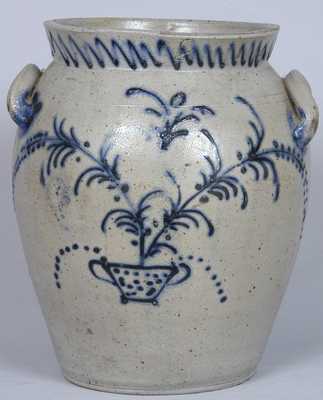 Click image to enlarge.
---