HOW TO BID
Click here for info on all of our various bidding methods.
AUCTION INFO
Next Auctions:
•May 4, 2013. Three-Session Sale: Textiles, The Maryland Sale, Americana
(More Info)
•July 20, 2013. Stoneware & Redware Pottery.
(More Info)
Location: Our historic gallery.

15900 York Rd, Sparks, MD 21152. (Directions.)
NOW ACCEPTING CONSIGNMENTS
Click here for a FREE pre-auction evaluation of your pieces!
Click here for more consignment info.
David Greenland Thompson, Morgantown, WV Stoneware Jar
November 05, 2005 Stoneware Auction
Lot #: 185
||
(Facebook)
||
||
Price Realized: $2,970.00 (Price includes 10% buyer's premium).

AUCTION HIGHLIGHT!
(
Nov. 5, 2005 Highlights
|
West Virginia Stoneware
)
Rare Four-Gallon Cobalt-Decorated Stoneware Jar with Coggled Rim and Molded Handles, attributed to David Greenland Thompson, Morgantown, W VA, circa 1855, semi-ovoid jar with slightly rounded rim, decorated on the front with a coggled vine design around the shoulder. Reverse of jar decorated partway with the same vine design, followed by a different coggled design of an undulating vine with groups of leaves. Molded pocket handles with embossed geometric designs, decorated at each end and along edge with cobalt. Jar decorated in cobalt on the front with a large flowering plant with leaves, a bud, and two different types of flowers. Excellent color, with bright cobalt blue against a light gray background. Impressed with the Thompsons" four-gallon capacity mark near base of jar on front. This example was likely made during the family"s early years of stoneware production, circa 1855. For a redware churn with similar brushed decoration, also attributed to David Greenland Thompson, see Ceramics in America 2004, p. 117, Figure 46. Excellent condition with a few short, faint lines in rim only and a few handle chips. Height 16".
---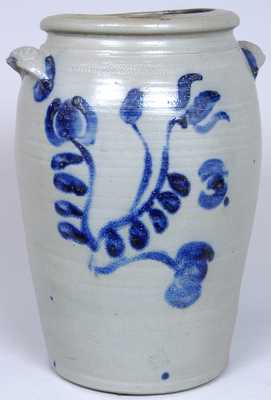 Click image to enlarge.
---