HOW TO BID
Click here for info on all of our various bidding methods.
AUCTION INFO
Next Auctions:
•May 4, 2013. Three-Session Sale: Textiles, The Maryland Sale, Americana
(More Info)
•July 20, 2013. Stoneware & Redware Pottery.
(More Info)
Location: Our historic gallery.

15900 York Rd, Sparks, MD 21152. (Directions.)
NOW ACCEPTING CONSIGNMENTS
Click here for a FREE pre-auction evaluation of your pieces!
Click here for more consignment info.
Redware Cat Figure, attributed to Solomon Bell, Strasburg
October 30, 2004 Stoneware Auction
Lot #: 59
||
(Facebook)
||
||
Price Realized: $12,100.00 (Price includes 10% buyer's premium).

AUCTION HIGHLIGHT!
(
Oct. 30, 2004 Highlights
|
Shenandoah Pottery
|
Redware
)
Exceedingly Rare and Important Redware Cat on Base, attributed to Solomon Bell, Strasburg, VA, circa 1860, hand-modeled, seated cat figure with rounded face, curled tail, and incised detail to paws and face. Seated on an oval base with impressed circle border and four impressed flower heads at the center. Cat and base coated in a tannish orange glaze with brown flecks. Form of cat matches the work of Shenandoah Valley master potter, Solomon Bell. See Comstock, p. 232 or Wiltshire, p. 64 for similar examples. A wonderful example of ceramic folk art. Loss to front of base. Chips to ears and some wear to muzzle. Small chip on reverse to edge of base. Tiny spot of glaze loss to cat"s chest. Height 4 3/8". Provenance: Kinzle Auction Galleries, 1982.
---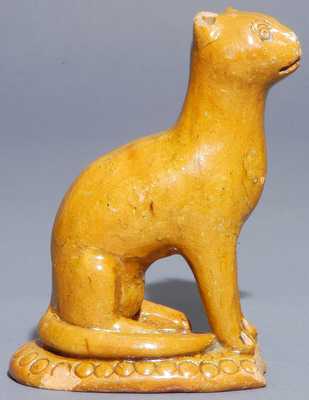 Click image to enlarge.
---