HOW TO BID
Click here for info on all of our various bidding methods.
AUCTION INFO
Next Auctions:
•May 4, 2013. Three-Session Sale: Textiles, The Maryland Sale, Americana
(More Info)
•July 20, 2013. Stoneware & Redware Pottery.
(More Info)
Location: Our historic gallery.

15900 York Rd, Sparks, MD 21152. (Directions.)
NOW ACCEPTING CONSIGNMENTS
Click here for a FREE pre-auction evaluation of your pieces!
Click here for more consignment info.
HENRY / PHILA Stoneware Chicken Waterer
October 30, 2004 Stoneware Auction
Lot #: 117
||
(Facebook)
||
||
Price Realized: $4,840.00 (Price includes 10% buyer's premium).

AUCTION HIGHLIGHT!
(
Oct. 30, 2004 Highlights
|
Philadelphia Stoneware
)
Exceedingly Rare and Important One-Gallon Stoneware Chicken Waterer, Stamped "HENRY / PHILA," circa 1840, beehive form with tooled finial, ribbed handles, and applied hooded trough to serve as a poultry watering area. Vessel is elaborately decorated with Remmey style flowers where the fountain area meets the water container. Additional heavy leaf and flower decorations on the sides of the vessel, and a large drooping flower with stem on the reverse. Maker"s mark impressed near the top, underscored by an impressed leaf design and a number "1" in a rectangle. Though the color, form, and decoration, of this chicken waterer resemble products of the Haig or Remmey potteries, the maker"s mark implies the vessel was made by potter, William Henry. According to Susan Myers" Handcraft to Industry, Henry was a prolific redware potter, who was active in Philadelphia from 1823 until 1859. Though no evidence suggests Henry owned his own pottery, or worked at any stoneware potteries in Philadelphia, a few extant examples of "HENRY / PHILA" stoneware suggest otherwise. (A similar example can be seen at the Henry Francis du Pont Winterthur Museum.) This waterer was likely made at a short-lived stoneware operation owned by Henry, or possibly made by Henry at one of the known stoneware businesses in Philadelphia. Its large size, extravagant decoration, and rare maker"s mark, make it a masterwork of Philadelphia stoneware. Section of watering trough replaced. Handle chip. Otherwise excellent condition. Height 12 1/2".
---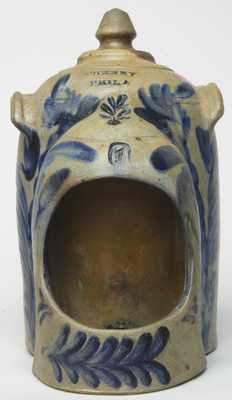 Click image to enlarge.
---